Innovation and Creativity in SMEs
Challenges, Evolutions and Prospects
Volume 21 – Smart Innovation SET Coordinated by Dimitri Uzunidis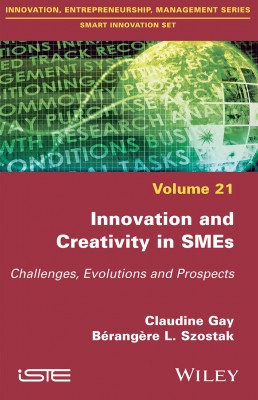 Description
In order to survive in their market and differentiate themselves from the competition, small- and medium-sized enterprises (SMEs), which represent more than 90% of companies worldwide, need to be creative and innovative.

This book presents a conceptual framework for thinking about innovation and creativity in SMEs. It takes into account their strategic relation to their environment and the economic, technological and social changes that they face. Their ability to enhance their creativity with new ideas and to legitimize them during their implementation is also taken into account.

The framework presented is based on recent academic research in platform and collaborative economics, organizational creativity and the appropriation of the value of ideas. It also draws on the experience of SME managers, and scientific and professional experts.
Contents
1. External Environment of an SME: From Determinism to Strategic Innovation.
2. Stimulating the Innovative Capabilities of SMEs in an Ever-Changing World.
3. Innovation and Creative Slack in SMEs.
4. Innovation and Social Construction of a New Idea in SMEs.

About the authors
Claudine Gay is a Professor in Economics at Université Lumière Lyon 2, France, and a member of the TRIANGLE laboratory. Her research focuses in particular on innovative territories and the platform economy.

Bérangère L. Szostak is a full Professor of Management Sciences at the BETA laboratory of the University of Lorraine-University of Strasbourg, France. Her work focuses on a range of topics including design agencies, industrial SMEs and social economy.

Downloads

Table of Contents
PDF File 84 Kb