Strategic Intelligence for the Future 1
A New Strategic and Operational Approach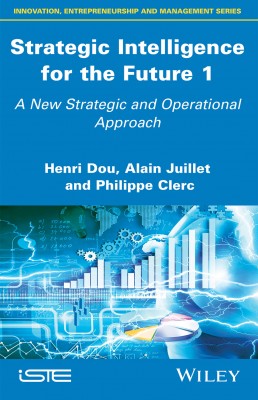 Description
Information in all its forms is at the heart of the economic intelligence process. It is also a powerful vector of innovation and, more than ever, a balance between economic and societal forces.

Strategic Intelligence for the Future 1 analyzes the need for the French economic intelligence to mutate in order to develop the economy, strengthen social cohesion and protect vital interests.

This mutation requires a change of attitudes and a new way of thinking, widely open to global change and new technologies. The focus of the French economic intelligence on conventional objectives such as business and the economy does not allow for the integration of its multiple possible fields and thus its global nature. The strategy, foresight and temporal dynamics necessary to the understanding of the world, and the new balance of power and control of complex situations, have thus increased the time needed to put this in place.

Both theoretical and practical, this book provides a basis from which to develop "enhanced economic intelligence" leading to the implementation of global security.
Contents
1. For a New Strategic and Competitive Intelligence.
2. Geopolitics and Strategic Intelligence.
3. Competitive Intelligence Schools Across the World: Foundations, Influence and Perspectives.
4. Competitive Intelligence as a Vehicle for International Collaboration.
5.Regional Competitive Intelligence.
6. Influence.
7. Sphere of Influence.
8. Organizational Intelligence.
9. From Military Intelligence to Competitive Intelligence.

About the authors
Henri Dou is Chairman of the CIWORLDWIDE think tank and an international consultant. He has developed teaching and research in technology intelligence, competitive intelligence, patent analysis and regional development.

Alain Juillet is President of the Académie de l'Intelligence Economique and an international consultant. His expertise is recognized in geopolitics, crisis management, influence, intelligence and security at an international level.

Philippe Clerc is President of the Association Internationale Francophone d'Intelligence Economique and an expert advisor in international economic intelligence at CCI France.
Downloads

Table of Contents
PDF File 100 Kb