Innovation and Development
The Politics at the Bottom of the Pyramid
Volume 2 - Innovation and Responsibility SET Coordinated by Robert Gianni and Bernard Reber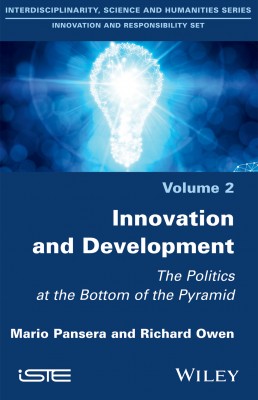 Description
Innovation, often tempered by the language of inclusion, has become an indispensable element of contemporary development policy and practice in the so-called Global South. Driven by multinational companies, public–private partnerships and social enterprises, "innovation for development" aims to co-produce social goods (things of value) such as poverty alleviation with associated profit through innovative market-led solutions, opening up untapped and unserved markets in the developing world and exploiting the potential "fortune at the bottom of the pyramid". But innovation for development is a contested notion with the capacity to shelter multiple political agendas.

By reviewing existing academic theory and discussing four in-depth case studies from Bangladesh and India, this book interrogates how innovation for development is being framed, its politics and the impacts it is having on rural communities on the ground. The analysis suggests both an emerging hegemony constructed around a neoliberal, market-led agenda and the existence of countervailing voices that question this framing, sometimes radically so.
Contents
Part 1. Theoretical Foundations: Innovation for Development, the Rise of a New Discourse
1. The Project of Development as a Discourse.
2. The Cross-fertilization of Innovation into the Lexicon of Development.

Part 2. Learning from the Field
3. The Tale of the Poor as Market-led Consumers.
4. The Tale of the Poor as Market-led Co-producers.
5. The Tale of "Inclusive Business Models".
6. The Tale of Science, Technology and Innovation for Social Revolution.
7. The Politics at the Bottom of the Pyramid.


About the authors
Mario Pansera is a Research Fellow at the University of Bristol, UK. His research focuses on discourses of innovation and development in the Global South, Responsible Research and Innovation (RRI) and Innovation for Sustainability.

Richard Owen is a Professor of Innovation Management at the School of Management, University of Bristol, UK. He researches innovation as a future-creating, socially constructed and politically and ethically entangled phenomenon from a critical and interdisciplinary perspective.
Downloads

Table of Contents
PDF File 91 Kb