Entrepreneurial Ecosystems
Volume 2 – Smart Innovation SET Coordinated by Dimitri Uzunidis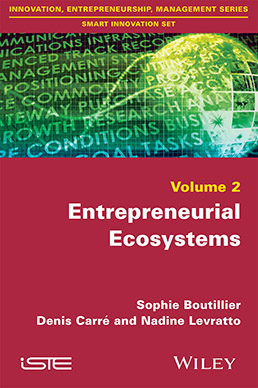 Description
Entrepreneurship is actively promoted by policy makers in today's rapidly changing business landscape. This book is dedicated to dispelling myths about entrepreneurs being only narrowly connected to their environment, reinforcing the importance of keeping the locally structured nature of networks in mind when developing business strategies.

This book presents the recent history of entrepreneurial ecosystems, taking a page from scholars who have long been conscious of its importance, and discussing it in the context of the history of economic thought.

The authors insist upon the diversity of agents involved in these organizations, with an emphasis on the importance of the linkages and sharing between them. The last section suggests some recommendations to policy makers to improve evaluation and oversight mechanisms.


Contents
1. Reputed Authors in the Field of Territorial Economics.
2. The Key Concepts of Territorial Analysis: from the Actors to the Entrepreneurial Ecosystem.
3. From Implementation to Evaluations: Trajectories and Coordination.

About the authors
Sophie Boutillier is Associate Professor at the University of the Littoral Opal Coast in Dunkirk, France.
Denis Carré is a researcher at the EconomiX laboratories at the Paris West University Nanterre La Défense in France.
Nadine Levratto is a senior researcher at EconomiX, a CNRS research unit in Paris-Nanterre, France.


Downloads

Table of Contents
PDF File 130 Kb