Hazards and Monitoring of Volcanic Activity 1
Geological and Historic Approaches
SCIENCES - Litosphere-Asthenosphere Interactions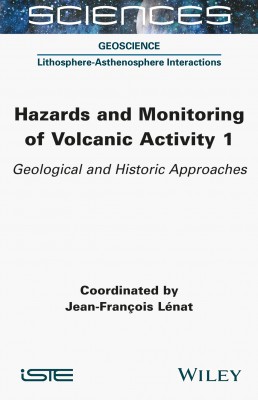 Description
The impact of natural disasters has become an important and ever-growing preoccupation for modern societies. Volcanic eruptions are particularly feared due to their devastating local, regional or global effects. Relevant scientific expertise that aims to evaluate the hazards of volcanic activity and monitor and predict eruptions has progressively developed since the start of the 20th century. The further development of fundamental knowledge and technological advances over this period have allowed scientific capabilities in this field to evolve.

Hazards and Monitoring of Volcanic Activity groups a number of available techniques and approaches to render them easily accessible to teachers, researchers and students.

This volume is dedicated to geological and historical approaches. The assessment of hazards and monitoring strategies is based primarily on knowledge of a volcano's past behavior or that of similar volcanoes. The book presents the different types of volcanic hazards and various approaches to their mapping before providing a history of monitoring techniques.

Contents
1. Understanding the Geological History of Volcanoes: An Essential Prerequisite to Their Monotoring, Patrick Bachèlery.
2. Volcanic Hazards, Raphaël Paris, Philipson Bani, Oryaëlle Chevrel, Franck Donnadieu, Julia Eychenne, Pierre-Jean Gauthier, Mathieu Gouhier, David Jessop, Karim Kelfoun, Séverine Moune, Olivier Roche and Jean-Claude Thouret.
3. Assessment, Delineation of Hazard Zones and Modeling of Volcanic Hazards, Jean-Claude Thouret and Sylvain Charbonnier.
4. History of Volcanic Monitoring and Development of Methods, Jean-François Lénat.
About the authors
Jean-François Lénat is Emeritus Professor at the Laboratoire Magmas et Volcans at the University of Clermont-Ferrand, France, and was the first scientific director of the volcano observatory at Piton de la Fournaise. He has studied many volcanoes, focusing particularly on the volcanism of the island of La Réunion.
Downloads

Table of Contents
PDF File 153 Kb