Electrodes for Li-ion Batteries
Materials, Mechanisms and Performance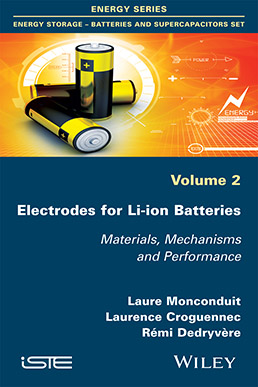 Description
The choice of positive and negative electrode materials directly impacts the performances of lithium-ion batteries. Crystal structure, electronic or ionic conductivity, particle size and morphology are crucial features that directly influence the working potential of the materials, their gravimetric and volumetric capacity and thus the resulting energy density of the batteries. The chemical and electrochemical reactivity of the electrode materials towards the electrolyte is just as important as the previous points, since most aging processes take place at electrode/electrolyte interfaces. In addition, environmental and economic considerations have to be taken into account to envisage the development of this technology in future applications, such as urban transportation (electric vehicles) or the storage of renewable energies.

This book focuses on present and future electrode materials, highlighting the understanding of mechanisms in order to propose more efficient electrodes for Li-ion batteries.
Contents
1. Negative Electrodes.
2. Positive Electrodes.


About the authors
Laure Monconduit is CNRS Senior Researcher at the Charles Gerhardt Institute, at the University of Montpellier in France. Her current research directions include the synthesis and characterization of new electrode materials for Li-ion and post-Li systems (Na, Mg-ion).
Laurence Croguennec is CNRS Senior Researcher at ICMCB in Bordeaux, France. Her research is focused on the field of electrode materials for Li and Na-ion batteries: crystal chemistry of oxides and phosphates, and the characterization of mechanisms involved in cycling.
Rémi Dedryvère is Professor at the University of Pau in France, at the IPREM Institute. His research activities are focused on electrode/electrolyte interfaces in Li-ion, Na-ion and Li-sulfur batteries, with the characterization of passivation layers and aging processes.

The three authors are strongly involved in the French and European networks on the electrochemical storage of energy, RS2E and ALISTORE-ERI, respectively.

Downloads

Table of Contents
PDF File 69 Kb