Cognitive Flexibility
The Cornerstone of Learning
SCIENCES - Education and Training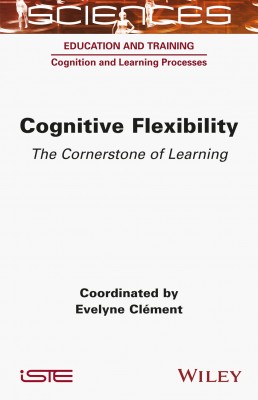 Description
Cognitive flexibility is the cornerstone of learning and enables us to cope with a constantly changing environment. By adapting our knowledge and habits in order to respond to new situations, cognitive flexibility plays a fundamental role in learning.

This book proposes a study of the fundamental notions of cognitive flexibility: its measurement and development, its links with metacognition and critical thinking and the role of context in its expression, as well as its involvement in discovering solutions, transferring knowledge and processing analogies. Convergent perspectives are also presented in order to paint a clear picture of cognitive flexibility and to discuss the issues at stake.

Thanks to the combined views of specialists in cognitive and developmental psychology, Cognitive Flexibility suggests new educational possibilities based on the results of empirical work on the subject.
Contents
1. Measures of Flexibility, Célia Maintenant and Gaëlle Bodi.
2. Development of Cognitive Flexibility, Agnès Blaye.
3. Metacognition and Flexibility: What are the Theoretical Links and What Links have been Observed?, Valérie Pennequin.
4. Critical Thinking and Flexibility, Calliste Scheibling-Sève, Elena Pasquinelli and Emmanuel Sander.
5. Successful Solution Discovery and Cognitive Flexibility, Evelyne Clément.
6. Transfer of Learning and Flexibility in Childhood, Jérôme Clerc and Laureen Josseron.
7. Cognitive Flexibility and Analogy, Lucas Raynal.
8. Context, Content Effects and Flexibility, Hippolyte Gros and Katarina Gvozdic.
About the authors
Evelyne Clément is Full Professor at CY Cergy Paris Université, France, and Deputy Director of the Paragraphe laboratory. Her research focuses on the cognitive and conative processes involved in learning and problem solving, and cognitive flexibility.
Downloads

Table of Contents
PDF File 145 Kb