Financial Information and Brand Value
Reflections, Challenges and Limitations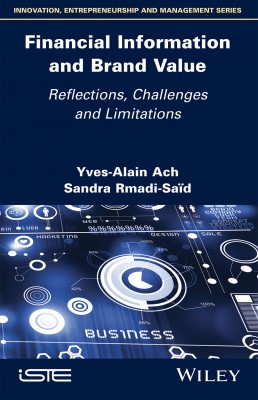 Description
The brand is the company's most important asset. In their financial statements, companies are faced with a lack of accounting recognition for the brands they have created, and value recognition for the brands they have acquired. This book studies the nature, characteristics and determinants of brand information published in companies' annual and financial reports.

It presents case studies on the methods of evaluating and developing brands, and analyzes annual reports published by listed companies, whose brands appear in international rankings. It reflects on the inadequacy of information and disclosed data to demonstrate the value of brands and the need to ensure that more reliable and relevant financial information is available to investors.

Financial Information and Brand Value goes beyond the simple application of conceptual frameworks in order for the reader to master the practices related to brand valuation.
Contents
1. The Brand as a Source of Value Creation.
2. Brand Development.
3. Value Review and the Acquisition of the GUCCI Brand.
4. Analysis of the Practices of Thirty-Seven International Companies.
5. Determinants of Brand Disclosure.

About the authors
Yves-Alain Ach (PhD) is Professor of Finance, Director of the International Finance Master of Science at the Leonardo da Vinci School of Management (EMLV) and Director of the French National Chamber of Financial Expert Advisors (CNCEF) in France.

Sandra Rmadi-Saïd is Professor of Finance and Management Control at the Leonardo da Vinci School of Management (EMLV) in France where she is also Director of the Assurance of Learning Committee for International Accreditations.

Downloads

Table of Contents
PDF File 79 Kb