Multi-component Reactions in Molecular Diversity
Volume 1 - Eco-compatibility of Organic Synthesis SET Coordinated by Max Malacria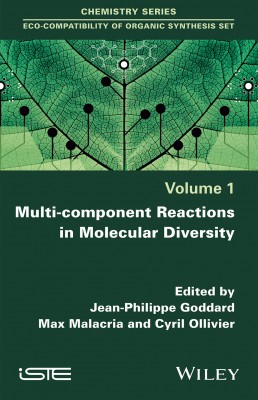 Description
While very useful for studying syntheses of molecular diversity, multi-component reactions also offer rapid access to a variety of complex molecules that are relevant for biological applications.

Multi-component Reactions in Molecular Diversity analyzes these reactions, whether they are realized by organometallic, ionic or even radical processes. It highlights popular methods based on monotype reactions (cascade, tandem, domino) and their efficiency and academic industrial domain are illustrated. This book also investigates the most efficient ways to prepare complex molecules.

Multi-component reactions are in tune with the concepts of atom and steps economy, which are of prior importance in all the reported processes ? from the laboratory to the pilot scale. The essential criteria for green chemistry are also examined in the book in detail.

Contents
1. Organometallic Multicomponent Reactions, Nuno Monteiro.
2. Use of 1,3-Dicarbonyl Derivatives in Stereoselective Domino and Multicomponent Reactions, Damien Bonne, Thierry Constantieux,
Yoann Coquerel and Jean Rodriguez.
3. Multicomponent Radical Processes: Recent Developments, Yannick Landais.

About the authors
Jean-Philippe Goddard is Professor of Molecular Chemistry at the University of Upper Alsace, France, and Deputy Director of LIMA (Laboratory of Molecular Innovation and Applications), Strasbourg, France.

Max Malacria is Emeritus Professor at Sorbonne University, Paris, France, where he researches the fields of catalysis, radical chemistry and aromaticity.

Cyril Ollivier is a CNRS Research Director at the IPCM (Parisian Institute of Molecular Chemistry) at Sorbonne University.
Downloads

Table of Contents
PDF File 92 Kb