Activation Methods
Sonochemistry and High Pressure
Volume 2 - Eco-compatibility of Organic Synthesis SET Coordinated by Max Malacria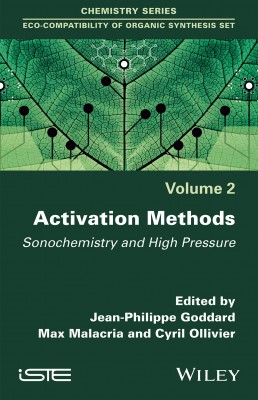 Description
Activation Methods examines recent improvements in the utilization of ultrasonic waves and pressurized gases to generate reactions.
A straightforward method to use, sonochemistry allows chemical reactions to be carried out under ultrasound without the need for external heat, reagents or catalysts – leading to high yields and the production of a minimum amount of waste. This book presents an overview of the main applications of sonochemistry in green organic chemistry, with an emphasis on texts published within the last few years.

High-pressure chemical reactions offer innovative solutions to problems relating to synthesis. They allow access to new products and a further understanding of reaction mechanisms. This book presents the characteristics of hyperbaric activation, which allow the integration of an arsenal of tools for green chemistry, such as the lowering of energy costs and of by-products, as well as the possibility of using substrates that are sterically congested and generally inert.
Contents
1. Organic Sonochemistry: Ultrasound in Green Organic Synthesis, Micheline Draye, Julien Estager and Nathalie Kardos.
2. High-Pressure Synthesis:An Eco-friendly Chemistry, Isabelle Chataigner and Jacques Maddaluno.

About the authors
Jean-Philippe Goddard is Professor of Molecular Chemistry at the University of Upper Alsace, France, and Deputy Director of LIMA (Laboratory of Molecular Innovation and Applications), Strasbourg, France.

Max Malacria is Emeritus Professor at Sorbonne University, Paris, France, where he researches the fields of catalysis, radical chemistry and aromaticity.

Cyril Ollivier is a CNRS Research Director at the IPCM (Parisian Institute of Molecular Chemistry) at Sorbonne University.
Downloads

Table of Contents
PDF File 88 Kb