Nonlinear Electronics 2
Flip-Flops, ADC, DAC and PLL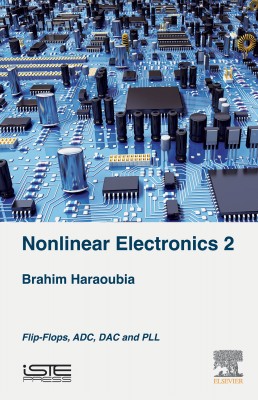 Description
Nonlinear Electronics 2 continues the innovative pedagogical approach deployed in Volume 1, featuring three chapters each followed by a set of exercises with solutions.

The first chapter deals with all forms of flip-flops (monostable, bistable and Schmitt flip-flops). The second examines the diverse range of analog-to-digital converters (ADCs) and digital-to-analog converters (DACs). Chapter 3 covers a very important circuit in the field of electronics, the phase-locked loop (PLL). The applications of PLLs are increasing day by day, and an understanding and mastery of this type of device opens up wide perspectives in the fields of engineering and research.

The book is presented in a way that allows any reader to gradually build new knowledge from his or her own learning. The exercises and solutions proposed will allow everyone to appreciate the various phenomena and nonlinear electrical functions from their own level of understanding.
Contents
1.Flip-flops.
2. Analog-to-Digital and Digital-to-Analog Converters.
3. The Phase-locked Loop (PLL).


About the authors
Brahim Haraoubia is Professor at the École Supérieure de Technologie in Algeria where he is also Director of the Laboratory of Innovative Technologies (LIT). He is the author of several publications, patents and academic books published in the field of research and pedagogy.
Downloads

Table of Contents
PDF File 78 Kb