Financial Markets for Commodities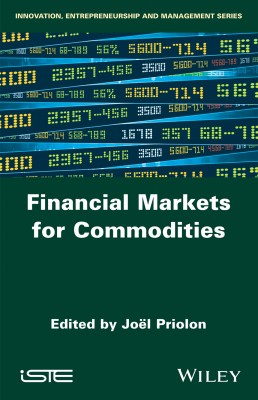 Description
Agricultural, energy or mineral commodities are traded internationally in two market categories: physical markets and financial markets. More specifically, on the financial markets, contracts are negotiated, the price of which depends on the price of a commodity. These contracts are called derivatives (futures, options contracts, swaps).

This book presents, on the one hand, the characteristics of these derivatives and the markets on which they are traded and, on the other hand, those transactions that typically combine an action on the physical market and a transaction on the corresponding financial market.

The understanding of commodity financial markets mainly relies on the resources of economic analysis, especially the financial economy, because the use of this discipline is essential to understanding the major operations that are conducted daily by the operators of these markets: traders, producers, processors, financiers.
Contents
1. General Observations on the Physical Trading of Commodities, Joël Priolon.
2. The Financial Commodity Markets, Joël Priolon.
3. Futures Contracts and Forward Contracts, Joël Priolon.
4. The Storage and Term Structure of Commodity Futures Prices, Christophe Gouel.
5. Options Markets, Christophe Doursat and Joël Priolon.
6. A Selective Review of Classic Literature in Economics, Joël Priolon.
7. A Very Selective Review of Modern Literature in Economics, Joël Priolon.
8. Questions Surrounding Regulation, Joël Priolon.


About the authors
Joël Priolon is Associate Professor at AgroParisTech. He has a PhD in economics and his research and teaching focus on financial markets, including commodity markets.
Downloads

Table of Contents
PDF File 40 Kb