Soils as a Key Component of the Critical Zone 5
Degradation and Rehabilitation
Volume 5 – Soils SET Coordinated by Christian Valentin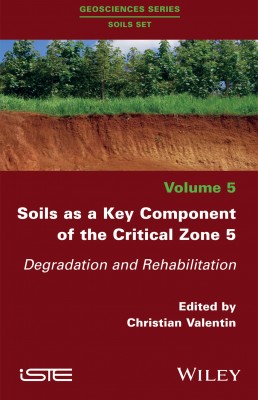 Description
One third of the world's soils have already been degraded. The burden on the land continues to grow under the combined pressures of demography, urbanization, artificialization and mining, and there are increased demands on agricultural land: changing dietary preferences, land speculation, as well as new demands for agroenergy, fiber, green chemistry, and more. Resulting issues such as soil crusting, water and wind erosion, soil salinization and soil acidity therefore constitute a major threat.

The authors of this book present the main processes and factors of soil degradation, different ways to prevent it and methods of rehabilitation. The book also deals with the origin and processes of metallic and organic soil pollution as well as methods of phytoremediation and restoration. It is one of the few books to explore the issue of soil artificialization and urban soil management and to highlight how agricultural and urban waste can be used to amend and fertilize cultivated soils.
Contents
1. The State and Future of Soils, Christian Valentin.
2. Soil Surface Crusting of Soil and Water Harvesting, Christian Valentin.
3. Erosion and Principles of Soil Conservation, Christian Valentin and Jean Louis Rajot.
4. Soil Acidity and Acidification, Étienne Dambrine.
5. Soil Salinization and Management of Salty Soils, Jean-Pierre Montoroi.
6. Metal Pollution, Denis Baize.
7. Organic Pollution and Soil Rehabilitation, Corinne Leyval, Aurélie Cébron and Pierre Faure.
8. Urban Soils: Artificialization and Management, Laure Vidal-Beaudet and Jean-Pierre Rossignol.
9. Recycling Organic Waste Products in a Tropical Context, Frédéric Feder.


About the authors
Christian Valentin is an agronomic engineer and soils specialist at l'Institut de Recherche pour le Développement, France. With 40 years of soil erosion and conservation research experience behind him, he teaches at Sorbonne University, France, and Hanoi, Vietnam, and is Deputy Director of l'Institut d'Ecologie et des Sciences de l'Environnement de Paris. He is the coordinator of the Soils Group of the French Academy of Agriculture.
Downloads

Table of Contents
PDF File 177 Kb