Soils as a Key Component of the Critical Zone 3
Soils and Water Circulation
Volume 3 – Soils SET Coordinated by Christian Valentin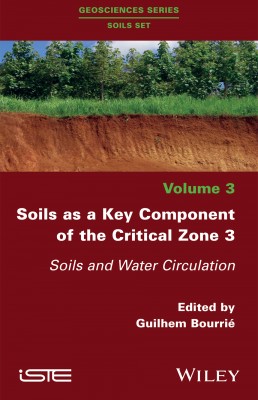 Description
This book invites the reader to look differently at two seemingly mundane resources: soil and water. Water possesses extraordinary properties which form the foundations of life itself. Without water, there would be no life, and without soils, no terrestrial life. The interaction between soils and water is therefore fundamental to the habitability of Earth's land surface.

Through in-depth analyses and experimentation, Soils as a Key Component of the Critical Zone 3 explores the circulation of water in soils. Through its properties, soil directs the path of water, leading it to wet soils or not, be absorbed by plants, infiltrate or runoff, concentrate in certain areas or flood. The potentially catastrophic consequences of such floods are often due to the absence or insufficiency of prevention measures.

This book thus shows the ways in which the relationship between water, life and soils is much more than a simple series of interactions or phenomena at interfaces and in fact constitutes a system with definite properties.
Contents
1. Physico-chemistry of the Soil–Water System, Guilhem Bourrié.
2. Soil Wettability, Philippe Beltrame.
3. Water Uptake by Plants, Claude Doussan, Loïc Pagès.
4. Preferential Flows, Yves Coquet, Ary Bruand.
5. Floods, Marcel Masson.


About the authors
Guilhem Bourrié, a member of the Académie d'Agriculture de France, is a pedologist and geochemist.
Downloads

Table of Contents
PDF File 166 Kb