Mergers & Acquisitions
Theory, Strategy, Finance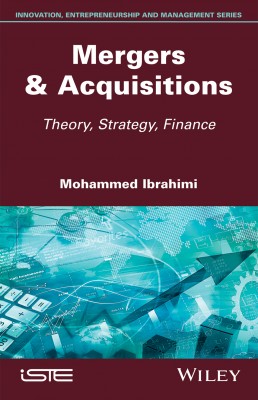 Description
This book on financial strategy covers the evolution of mergers and acquisitions by focusing primarily on value creation. Aware that the stages of this phenomenon remain largely misunderstood in finance, the author defines various types of operations, explains their development, details their means for accomplishment and analyzes the divergences surrounding them. Furthermore, this book describes key markets and elaborates on the consequences of mergers and acquisitions on the behavior of managers, who often undertake merger/acquisition operations with objectives that are not solely economic.

The author explores these motivations, which can form the basis of numerous risky operations, by focusing on their performance and their link with the circle of diversifying, restructuring and specializing. A survey of value creation measures and their sources is thus carried out. Two studies regarding mergers and value creation are included to supplement the work.
Contents
Part 1. Taxonomy of Mergers and Acquisitions and the Evolution of Managerial Thought
1. Strategic Evolution of Mergers and Acquisitions.
2. Growth Methods and Responses.

Part 2. Mergers and Acquisitions Strategies: Cause and Effect
3. Asset Transfers: Causes and Consequences.
4. Mergers/Acquisitions: Motivation and Performance.

Part 3. Value Creation and Measurement Methods
5. Synergy in Mergers and Acquisitions.
6. Measurement Methods for Value Creation.

Part 4. The French Market: Analyses and Case Studies
7. Observations and Lessons from the French Merger/Acquisition Market.
8. Value Creation in the Sanofi-Aventis Merger.


About the authors
Mohammed Ibrahimi is Professor of Finance at ENCG (National School of Commerce and Management), Casablanca, Morocco.
Downloads

Table of Contents
PDF File 90 Kb