Information Systems for Knowledge Management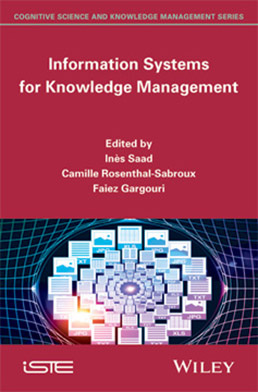 Description
Knowledge management (KM) is the process of finding, distributing, and using knowledge about an organization effectively in a multi-disciplined approach.

Information Systems for Knowledge Management brings together leading authors in this field to discuss implementing KM through networks and information technology. Individual chapters cover various topics in the field, including assessing community maturity from a KM perspective; social networks; sociocultural KM in computer-supported collaborative learning; argumentation-based rough set theory and KM; using tacit knowledge in collaborative decision-making; information management in microblogs; KM systems in the legal domain; core ontologies; a multicriteria decision-making approach for business process evaluation; and a collaborative approach for knowledge codification, knowledge engineering methods and knowledge transfer.


Contents
1. Assessing the Community Maturity from a Knowledge Management Perspective, Imed Boughzala.
2. Social Networks: Leveraging User Social Data to Empower Collective Intelligence, Xuan Truong Vu, Marie-Hélène Abel and Pierre Morizet-Mahoudeaux.
3. Sociocultural Knowledge Management toward the Adaptation of a CSCL Environment, Fadoua Ouamani, Narjès Bellamine Ben Saoud and Henda Hajjami Ben Ghezala.
4. An Argumentation-Based Rough Set Theory for Knowledge Management, Sarra Bouzayane, Imène Brigui-Chtioui and Inès Saad.
5. Considering Tacit Knowledge When Bridging Knowledge Management and Information Systems for Collaborative Decision-Making, Pierre-Emmanuel Arduin, Camille Rosenthal-Sabroux, and Michel Grundstein.
6 Relevant Information Management in Microblogs, Soumaya Cherichi and Rim Faiz.
7. A Legal Knowledge Management System Based on Core Ontology, Karima Dhouib and Faiez Gargouri.
8. Foundations for a Core Ontology of an Organization's Processes, Mohamed Turki, Gilles Kassel, Inès Saad and Faiez Gargouri.
9. A Business Process Evaluation Methodology for Knowledge Management Based on Multicriteria Decision-Making Approach, Mohamed Turki, Inès Saad, Faiez Gargouri and Gilles Kassel.
10. A Collaborative Approach for Optimizing Continuity between Knowledge Codification with Knowledge Engineering Methods and Knowledge Transfer, Thierno Tounkara.



About the authors
Inès Saad is Associate Professor in Information Systems at France Business School and head of the "Management Education and Digital Technologies" research center. She also heads a Knowledge Management team at the MIS laboratory at the University of Picardie Jules Verne, France. Her research interests include knowledge management, organizational memory, information systems, ontology, group decision-making and decision support systems.

Camille Rosenthal-Sabroux is Full Professor at Dauphine University, Paris IX in France, as well as an advisor for some large companies on Information Systems, Knowledge Management, and Decision Aid. She was the founder of the SIGECAD Group. Her main research topics are: modeling languages (UML), decision aid, knowledge acquisition, knowledge management, and information systems.

Faïez Gargouri is Professor in Computer Science at the Higher Institute of Computer Science and Multimedia at Sfax University, Tunisia, where he has been director of the MIRACL (Multimedia, InfoRmation systems and Advanced Computing Laboratory) research laboratory since October 2011. His research interests include business information systems, business intelligence, multimedia information systems, and ontology.
Downloads

Table of Contents
PDF File 110 Kb