Energy Efficiency in Wireless Networks
FOCUS Series in Networks and Telecommunications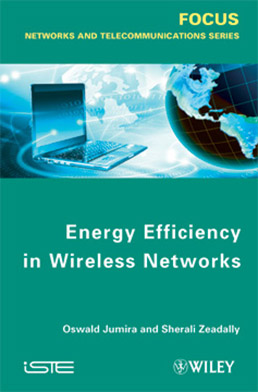 Description
The last decade has witnessed an unprecedented development and growth in global wireless communications systems, technologies and network "traffic" generated over network infrastructures. This book presents state-of-the-art energy-efficient techniques, designs and implementations that pertain to wireless communication networks such as cellular networks, wireless local area networks (WLANs) and wireless ad hoc networks (WAHNs) including mobile ad hoc networks (MANETs), and wireless sensor networks (WSNs) as they are deployed across the world to facilitate "always on" reliable high-speed wireless access from anywhere, at anytime to accommodate the new paradigm of the "Internet of Things" (IoT).

The pervasive and exponential growth of Wi-Fi and the impact of bandwidth-intensive applications on the energy consumption of Wi-Fi-enabled devices are discussed along with energy harvesting as an advantageous option to power WAHNs. The book aims to serve as a useful reference for researchers, students, regulatory authorities, and educators.
Contents
1. Energy Efficiency in Cellular Networks.
2. Energy Efficiency in Wireless Ad Hoc Networks.
3. Energy Efficiency in Wireless Local Area Networks.
4. Energy Harvesting in Wireless Sensor Networks.
5. Future Challenges and Opportunities.

About the authors
Oswald Jumira was involved in joint research in next generation wireless communications system and the new paradigm of the "Internet of Things".

Sherali Zeadally is an Associate Professor in the Department of Computer Science and Information Technology at the University of the District of Columbia, Washington D.C., USA. He received his Bachelor's degree and doctorate, both in Computer Science, from the University of Cambridge, UK and the University of Buckingham, UK respectively. He is a Fellow of the British Computer Society and a Fellow of the Institution of Engineering Technology, UK.
Downloads

Tables of Contents
PDF File 167 Kb