Communicating Embedded Systems
Network Applications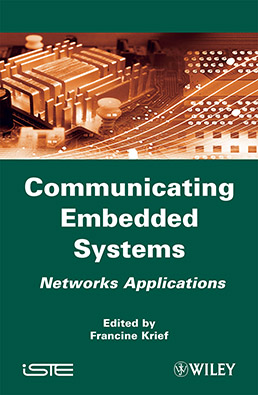 Description
Embedded systems become more and more complex and require having some knowledge in various disciplines such as electronics, data processing, telecommunications and networks.

Without detailing all the aspects related to the design of embedded systems, this book, which was written by specialists in electronics, data processing and telecommunications and networks, gives an interesting point of view of communication techniques and problems in embedded systems. This choice is easily justified by the fact that embedded systems are today massively communicating and that telecommunications and networks constitute the main sector of embedded systems.
Contents
1. Introduction to Embedded Systems, Patrice Kadionik.
2. Quality-of-Service Routing in Mobile Ad Hoc Networks, Zoubir Mammeri.
3. Self-Management of Ad Hoc Sensor Networks, Francine Krief.
4. RFID Technology, Vincent Guyot.
5. Hardware Security in Embedded Systems, Lilian Bossuet and Guy Gogniat.
6. Communications Security in Embedded Systems, Mohamed Aymen Chalouf.
7. Cross-Layer Adaptation for Multimedia Services in 802.11-Type Embedded Communications Systems, Ismaïl Djama.
8. Relevance of the DTN Architecture to Mobile Ad Hoc Networks, Olfa Samet.
9. Intelligent Interfaces and Mobile Communications, Badr Benmammar and Zeina El-Ferkh Jrad.
10. Routing and Mobility Management in Personal Networks, Usman Javaid and Francine Krief.

About the authors
Francine Krief is Professor at the University of Bordeaux, France.
Downloads

Table of Contents
PDF File 249 Kb