Nanomaterials and Surface Engineering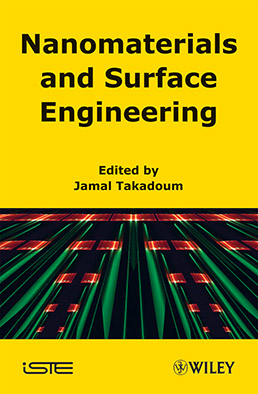 Description
This book covers a wide range of topics that address the main areas of interest to scientists, engineers, and students concerned with the synthesis, characterization and applications of nanomaterials. Development techniques, properties and examples of industrial applications are all widely represented as they apply to various nanostructured materials including nanocomposites and multilayered nanometric coatings.

The book also illustrates a wide range of powerful methods of nanomaterial/nanostructure synthesis such as microwave-assisted methods, pulsed electrodeposition, ion beams, or glancing angle deposition. Techniques for the encapsulation and functionalization of nanoparticles, as well as the adhesion and mechanical characterization of nanostructured thin films, are also described and discussed. It is to be recommended to anyone working in the field of nanomaterials, especially in connection with the functionalization and engineering of surfaces.
Contents
1. Architecture of Thin Solid Films by the GLAD Technique, Nicolas Martin, Kevin Robbie and Luc Carpentier.
2. Transparent Polymer Nanocomposites: A New Class of Functional Materials, Anne Christmann, Claire Longuet and José-Marie Lopez Cuesta.
3. Nanostructures by Ion Irradiation, Jean-Claude Pivin.
4. Microencapsulation, Claude Roques-Carmes and Christine Millot.
5. Decorative PVD Coatings, Raymond Constantin, Pierre-Albert Steinmann and Christian Manasterski.
6. Microwave Chemistry and Nanomaterials: From Laboratory to Pilot Plant, Didier Stuerga and Thierry Caillot.
7. Aluminum-Based Nanostructured Coatings Deposited by Magnetron Sputtering for Corrosion Protection of Steels, Frédéric Sanchette, Cédric Ducros and Alain Billard.
8. Nanolayered Hard Coatings for Mechanical Applications, Frédéric Sanchette, Cédric Ducros and Guillaume Ravel.
9. Plating of Nanocomposite Coatings, Patrice Berçot and Jamal Takadoum.
10. Nanostructured Coatings, Guy Baret and Pierre Paul Jobert.
11. Characterization of Coatings: Hardness, Adherence and Internal Stresses, Jamal Takadoum.
12. High Temperature Oxidation Resistance of Nanocomposite Coatings, David Pilloud and Jean-François Pierson.

About the authors
Prof. Jamal Takadoum is Deputy Director of the Micro Nano Sciences & Systems Department of FEMTO-ST Institute and Professor of Materials Science at the National Engineering Graduate School of Mechanics and Microtechnologies (ENSMM) of Besancon in France.
Downloads

Table of Contents
PDF File 233 Kb