Hazards in the Food Processing and Distribution Chain
SCIENCES - Food Safety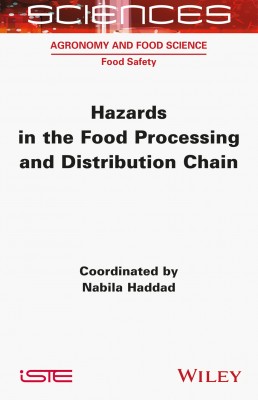 Description
Foodstuffs can be the vector of a variety of hazards that adversely affect the health of the consumer. Viruses are the leading causes of foodborne infectious diseases, and pathogenic bacteria and bacterial toxins are the leading agents of zoonotic diseases in Europe, not to mention other biological hazards, such as parasites, which can spread to humans through food.

In addition to these biological dangers, chemicals used in agriculture, environmental pollutants and additives can all end up on the consumer's plate and ultimately damage their health.

Hazards in the Food Processing and Distribution Chain covers both chemical and microbiological dangers, aiming to outline the principle of risk analysis with some examples to illustrate the reasoning involved in this process.

Contents
1. Bacterial and Parasitic Hazards and Consumption of Meat by Jean-Michel Cappelier.
2. Minimally Processed Seafood Products and Bacterial and Parasitic Hazards by Thomas Brauge, Stéphanie Copin, Mélanie Gay and Graziella Midelet.
3. Microbial Contamination of Equipment Surfaces in Agro-Industries by Piyush Kumar Jha, Thierry Bénézech, Maureen Deleplace and Christine Faille.
4. Contaminants as Chemical Hazards in Food by Gaud Dervilly, Ronan Cariou and Bruno Le Bizec.
5. Contaminants as Chemical Hazards in Food by Christine Chéné.
About the authors
Nabila Haddad has a PhD in microbiology and molecular biology. She is currently an associate professor at Oniris, the National College of Veterinary Medicine, Food Science and Engineering in Nantes, France. Her research is carried out at the INRAE/Oniris SECALIM joint research unit, and focuses on the field of microbial food safety.
Downloads

Table of Contents
PDF File 166 Kb