Societal Responsibility of Artificial Intelligence
Towards an Ethical and Eco-responsible AI
Volume 4 - Technological Prospects and Social Applications SET Coordinated by Bruno Salgues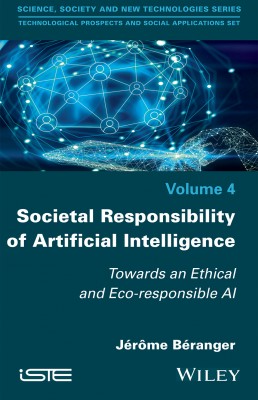 Description
The digital world is characterized by its immediacy, its density of information and its omnipresence, in contrast to the concrete world. Significant changes will occur in our society as AI becomes integrated into many aspects of our lives.

This book focuses on this vision of universalization by dealing with the development and framework of AI applicable to all. It develops a moral framework based on a neo-Darwinian approach – the concept of Ethics by Evolution – to accompany AI by observing a certain number of requirements, recommendations and rules at each stage of design, implementation and use.

The societal responsibility of artificial intelligence is an essential step towards ethical, eco-responsible and trustworthy AI, aiming to protect and serve people and the common good in a beneficial way.
Contents
1. Societal and Moral Questioning Around AI and Its Ecosystem.
2. The Ethical Approach to AI.
3. Ethical Framework Associated with AI.
4. Anticipation Around Artificial Consciousness.
About the authors
Jérôme Béranger is a scientific expert on the ethical approach of the digital revolution and Ethics by Evolution. He is co-founder and CEO of the ADELIAA and is also an associate researcher in the Inserm 1295 BIOETHICS team at the University of Toulouse III, France.
Downloads

Table of Contents
PDF File 207 Kb