Kinship, Ecology and History
Renewal of Conjectures
Volume 3 - Interdisciplinarity Between Biological Sciences and Social Sciences Set Coordinated by Georges Guille-Escuret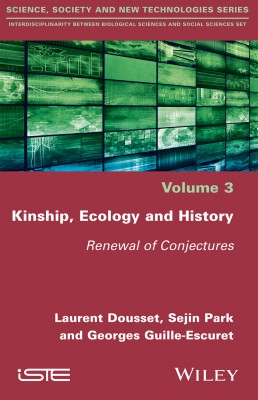 Description
The analysis of kinship plays a major role in social anthropology. However, the intellectual triumph of structuralism has transformed this analysis into an ivory tower and the methodological hegemony of functionalism inhibits any historical authority.

Kinship, Ecology and History informs the reader of these old, yet long-lasting issues. By presenting new, original perspectives, this book reinvents the manner in which we can study kinship. It also examines ecology and history as a conjectural reflection, which make up the foundations on which human kinship can be reflected upon. Whether human kinship is understood in the form of systematics models or as articulated practices, it has to be conceived as a strategic means for modes of action and of transformation of life in society.

The three case studies presented in this book give body to new issues. They deconstruct the existing models in order to re-establish kinship as a condition and consequence of social evolution.
Contents
1. Conditional Conjecture: the Relationship Between Ecology, Evolution and History.
2. Mode of Reproduction and Prohibition of Incest.
3. Open and Closed Systems: Rebuilding the Social Organization of Prehistoric Societies.

About the authors
Laurent Dousset is Professor of Anthropology at EHESS, the School of Advanced Studies in Social Sciences in France. He also leads research in Australia and Vanuatu on kinship, land ownership and political organization.

Sejin Park is a Researcher in Anthropology at the Institute of Cross-Cultural Studies at Seoul National University, South Korea.

Georges Guille-Escuret is Director of Research at the French National Center for Scientific Research (CNRS) in France. He has also produced numerous works on the conditions for an efficient cooperation between the social sciences and ecology.

Downloads

Table of Contents
PDF File 83 Kb