Swift Ion Beam Analysis in Nanosciences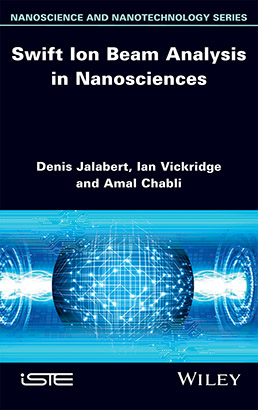 Description
Swift ion beam analysis (IBA) of materials and their surfaces has been widely applied to many fields over the last half century, constantly evolving to meet new requirements and to take advantage of developments in particle detection and data treatment.

Today, emerging fields in nanosciences introduce extreme demands to analysis methods at the nanoscale. This book addresses how analysis with swift ion beams is rising to meet such needs. Aimed at early stage researchers and established researchers wishing to understand how IBA can contribute to their analytical requirements in nanosciences, the basics of the interactions of charged particles with matter, as well as the operation of the relevant equipment, are first presented. Many recent examples from nanoscience research are then explored in which the specific analytical capabilities of IBA are emphasized, together with the place of IBA alongside the wealth of other analytical methods.


Contents
1. Fundamentals of Ion-solid Interactions with a Focus on the Nanoscale.
2. Instruments and Methods.
3. Applications.
4. The Place of NanoIBA in the Characterization Forest.


About the authors
Denis Jalabert joined the institute of Nanosciences and Cryogenics at the CEA Grenoble in France 25 years ago. Since 1998, he has led the ion beam analysis activity of MINATEC/Grenoble and, more specifically, the Medium Energy Ion Scattering technique.

Ian Vickridge, CNRS Research Director in France, leads the SAFIR IBA platform of the Paris NanoSciences Institute, UPMC, Paris, France. Editor of Nuclear Instruments and Methods Section B since 2007, he has been involved in IBA for over 25 years.

Amal Chabli, CEA Research Director in France, is Senior Scientist at the Solar Technologies Department of the LITEN Institute, CEA, Grenoble, France. She has been involved in material characterization at the nanoscale in micro and nanotechnologies R&D for over 30 years.


Downloads

Table of Contents
PDF File 178 Kb