Physics and Operation of Silicon Devices in Integrated Circuits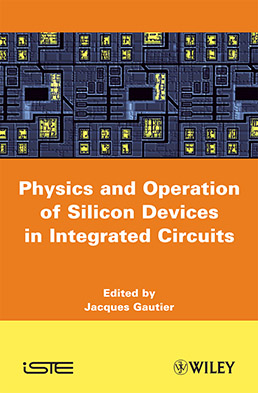 Description
This book provides a comprehensive insight into the operation of the main microelectronic devices in silicon integrated circuits. It covers the physics of semiconductor materials, linking their basic properties to those of devices. The field effect transistor, a major component of modern integrated circuits, is given comprehensive coverage, including updated characteristics and future prospects. SOI technology is also outlined, due to the important advantages resulting from this material for some applications and products. The bipolar junction transistor, also a useful device, especially for analog and RF functions, is described at ideal and real levels, along with a presentation of state-of-the-art technologies. The book concludes by discussing non-volatile solid-state memories, now currently embedded in many products, charge storage-based structures and emerging memory devices.
Contents
1. Physical Basis of Semiconductor Materials, Arnaud Bournel, Philippe Dollfus and Sylvie Galdin-Retailleau.
2. Basic Elements of the Physics of Transport in Semiconductor Devices, Arnaud Bournel, Philippe Dollfus and Sylvie Galdin-Retailleau.
3. Introduction to MOSFET Physics, Thomas Skotnicki, Frédéric Bœuf and Thierry Poiroux.
4. Introduction to SOI Technology and Transistors, Sorin Cristoloveanu and Francis Balestra.
5. Physics of Bipolar Transistors and Integration in CMOS Technology, Mireille Mouis.
6. Non-volatile Memories, Julien Buckley and François Mondon.


About the authors
Jacques Gautier has worked more than 35 years on microelectronics at CEA-LETI, mainly at the level of devices, from technology to modelling, simulation, device design and reliability, on bulk silicon as well as on SOI. His field of investigation comprised different generations of MOSFET but also ISFET sensors, high voltage transistors and single electronics. He led a research group for 15 years, was manager of the "microelectronics for the future" program, and now he is Senior Research Scientist in MINATEC. As expert, he participated at many Scientific Committees, Conference Technical Committees and prospective meetings. He is IEEE member.