The Covid-19 Crisis
From a Question of an Epidemic to a Societal Questioning
Volume 4 - Health and Patients SET by Bruno Salgues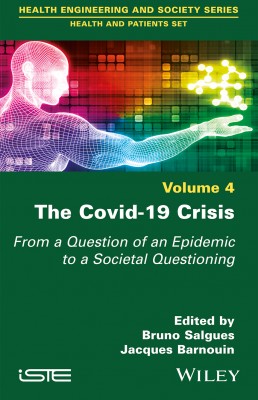 Description
The threats of emerging diseases have shaken certainties about health systems, the effectiveness of governance, lifestyles and the reality of national sovereignty.
The Covid-19 Crisis analyzes the global issues related to the emergence of the SARS-CoV-2 virus through investigations and reflections related to both the epidemic itself (epidemiology, computerized surveillance tools and vaccines) and to the societal issues it raises (work, innovation, religious practices, behaviors and societal models).

This eclectic approach highlights scientific working methods that meet the requirements of health crises, as well as technical solutions and societal practices adapted to epidemic situations. It also presents feedback and testimonies.

Contents
1. Deciphering the Covid-19 Epidemic and Analysis of Its Controllability, Jacques Barnouin.
2. The Story of a Pandemic Foretold: Focus on the Covid-19 Vaccine, Jean-Pierre Girardeau.
3. Remote Working after Lockdown, Emmanuel Mignot.
4. The Digital Revolution and Religious Fact in the Context of Lockdowns Linked to the Coronavirus, Éric Fogarassy and François Demongeot.
5. Old and New Rituals Throughout the Covid-19 Pandemi, Bruno Salgues.
6. The New Innovators in the Footsteps of the Coronavirus, Henri Samier, Emmanuel Chéné and Guy Caverot.
7. Behavior and Anticipation of the Covid-19 Crisis, Christian Schoen.
8. Humans, Digital Technology and the SARS-CoV-2 Health Crisis, Judith Nicogossian.
9. Will the Covid-19 Pandemic be an Opportunity to Implement the Principle of Sustainable Development?, Jean-Paul Bois-Margnac.
10. The Pandemic Has Invited Itself into a World in the Midst of a Crisis of Meaning, Philippe Tronc.

About the authors
Bruno Salgues is a research director in the innovation department of the Institut Mines-Télécom, France, and a specialist in information and communication technologies. He is currently involved in the development of the Health Engineering Center at the École des Mines de Saint-Étienne, France.

Jacques Barnouin is a designer of multidisciplinary programs and methodological tools and was formerly director of research at INRAE, France. His research mainly focuses on multifactorial epidemiology.

Downloads

Table of Contents
PDF File 111 Kb