Microbiological Risk Assessment Associated with the Food Processing and Distribution Chain
SCIENCES - Agronomy and Food Science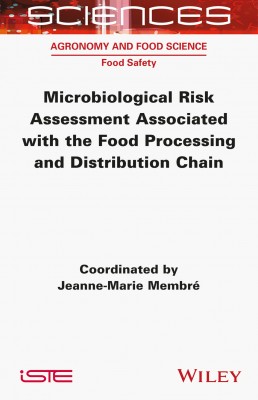 Description
According to the World Health Organization, one in every ten people worldwide falls ill from eating contaminated food every year, with 550 million cases of diarrheal diseases.

Microbiological risk assessment aims to characterize the nature and probability of harm resulting from human exposure to the biological agents that are present in foodstuffs. This assessment must take into account all stages of the chain: from the production of raw materials to consumption.

After briefly introducing food safety and risk assessment, this book details the four major steps of microbiological risk assessment. The contributors first present hazard identification and then exposure assessment, which is subdivided into methods for the detection and enumeration of pathogens and for the quantification of the level of exposure. Then, hazard characterization is subdivided into pathogenicity mechanisms and quantification of the
dose–response relationship. Finally a guide for microbiological risk characterization is provided.

The conclusion presents possible development avenues for microbiological risk assessment, particularly its integration into a holistic assessment of food systems.
Contents
Part 1. Hazards and Food.
1. Biological Hazard Identification, Jeanne-Marie Membré and Nabila Haddad.
2. Detection and Enumeration of Foodborne Pathogens and Bacterial Toxins in Food, Nabila Haddad.
3. Exposure Assessment of Microbial Pathogens, Maarten Nauta.

Part 2. Food and Risk.
4. Pathogenic Mechanisms of Bacterial Foodborne Pathogens, Mayra Aguirre Garcia and Nabila Haddad.
5. Microbial Dose–Response Models, Moez Sanaa and Laurent Guillier.
6. A Guide for Microbiological Risk Characterization, Laurent Guillier and Moez Sanaa.
About the authors
Jeanne-Marie Membré has a degree in food engineering and a PhD in food microbiology and now works at the National Research Institute for Agriculture, Food and Environment, Nantes, France. Her research interests cover predictive microbiology, microbiological risk assessment and risk–benefit evaluation.
Downloads

Table of Contents
PDF File 103 Kb