Risks and the Anthropocene
Alternative Views on the Environmental Emergency
SCIENCES - Geography and Demography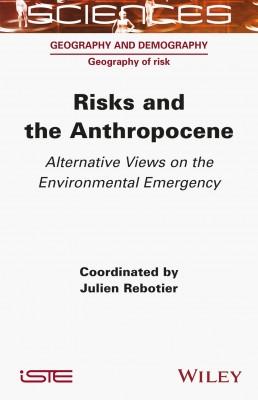 Description
The Anthropocene refers to all societies' current era of environmental challenges. For the social sciences, the Anthropocene represents a historical "moment" with huge potential: it offers people new ways of considering the human condition, as well as how they interact with the rest of the living world and with the planet on all levels.

At the turn of the 21st century, the idea of the Anthropocene burst onto the older, diverse and varied scene of risk studies. This "new geological era", which is entirely created by humanity, went on to revive our understanding of environmental issues, as well as the analysis of the social and political problems that constitute risk situations.

Drawing together contributions from specialists in social sciences concerning risks and the environment, Risks and the Anthropocene explores the advantages that the idea of the Anthropocene can offer in understanding risks and their management, as well as the limitations it presents.
Contents
Part 1. Toward Unprecedented Risks?.
1. Coastal Risks: Coastlines Always Under Pressure, Catherine Meur-Ferec.
2. Forest Fires in the Anthropocene: Issues of Scale, Christine Bouisset.
3. Urban Climate: Agenda and Perspectives of a Climate Risk, Julia Hidalgo.

Part 2. Recompositions for the Study and Management of Risks?
4. Permanence and Specificities of Risks and Their Management in the Anthropocene Era, Patrick Pigeon.
5. The International World of Disasters: Beyond Reflexivity, Surpassing Naturalism?, Sandrine Revet.
6. The Difficult Birth of the Risk Society and the Relegation of Social Sciences, Pascale Metzger and Julien Rebotier.

Part 3. What Consequences for a Changing Modernity?.
7. Understanding the Political Fabric and Effects of Ensemble Flood Forecasts in Europe, Sébastien Nobert, Kristian Krieger and Florian Pappenberger.
8. Toward a New Security Deal? Reflexive Modernity, a Complex Turn and Shift to Uncertainty, Magali Reghezza-Zitt.
9. The Imperative of Practical Wisdom in the Face of Anthropocene Emergencies: The Case of Climate Change, Florent Champy.
About the authors
Julien Rebotier is a geographer at CNRS, France, and a specialist on Latin America. His research interests focus on socio-spatial relationships, taking into account environmental aspects, and on interdisciplinarity.
Downloads

Table of Contents
PDF File 173 Kb