Energy Transition in Metropolises, Rural Areas and Deserts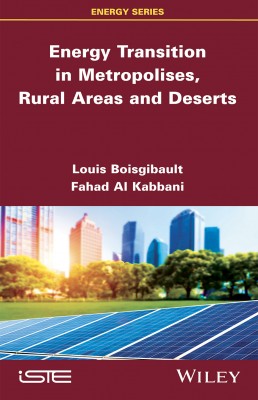 Description
Energy Transition in Metropolises, Rural Areas and Deserts presents detailed field studies of energy transition in Lille, Riyadh, Fayence, Bokhol, Ouarzazate and the Arabian Desert. It analyzes local actions and good practices – according to the resources and constraints involved – in the process of removing the obstacles to the transition. Solutions are sought for the right type of space for buildings, transport, industry and services, and targets are set for Europe, the Middle East and Africa as part of the Paris Climate Agreement.

As a pedagogical tool, this book is aimed at not only politicians and professionals, but also any members of the public who wish to learn about changes in production and energy consumption.


Contents
1. Three Types of Space for Analyzing Energy Transition.
2. Energy Transition in Metropolises.
3. The Energy Transition in Rural Areas.
4. The Energy Transition in the Desert.
About the authors
Louis Boisgibault, PhD, is a lecturer at HEC Paris and CEO of VALMERE in France.

Fahad Al Kabbani, PhD, is Director General of Energy Forever Co Ltd in Saudi Arabia.
Downloads

Table of Contents
PDF File 91 Kb