Cyber-Vigilance and Digital Trust
Cyber Security in the Era of Cloud Computing and IoT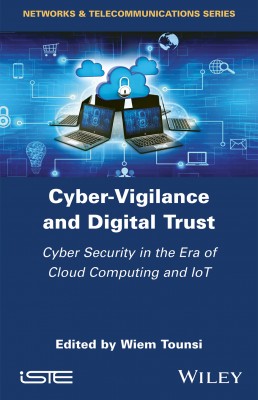 Description
Cyber threats are ever increasing. Adversaries are getting more sophisticated and cyber criminals are infiltrating companies in a variety of sectors. In today's landscape, organizations need to acquire and develop effective security tools and mechanisms – not only to keep up with cyber criminals, but also to stay one step ahead.

Cyber-Vigilance and Digital Trust develops cyber security disciplines that serve this double objective, dealing with cyber security threats in a unique way. Specifically, the book reviews recent advances in cyber threat intelligence, trust management and risk analysis, and gives a formal and technical approach based on a data tainting mechanism to avoid data leakage in Android systems.
Contents
1. What is Cyber Threat Intelligence and How is it Evolving?, Wiem Tounsi.
2. Trust Management Systems: a Retrospective Study on Digital Trust, Reda Yaich.
3. Risk Analysis Linked to Network Attacks, Kamel Karoui.
4. Analytical Overview on Secure Information Flow in Android Systems: Protecting Private Data Used by Smartphone Applications, Mariem Graa.


About the authors
Wiem Tounsi, PhD, is Head of the Managed Security Services and R&D division at Axians Cybersecurity Paris, France. Her research interests include network security and privacy issues, mainly policies management, threat analysis and lightweight cryptography. She has authored several research papers in high-level international journals and conferences, and has been an invited keynote speaker at several major scientific conferences.
Downloads

Table of Contents
PDF File 113 Kb