Interoperability for Enterprise Software and Applications
Proceedings of the Workshops and the Doctorial Symposium of the Second IFAC/IFIP I-ESA International Conference: EI2N, WSI, IS-TSPQ 2006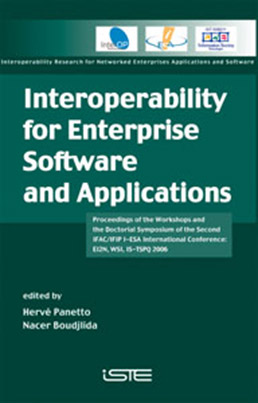 Description
During the IFAC/IFIP I-ESA international conference, supported by the INTEROP NoE (Interoperability Research for Networked Enterprises Applications and Software Network of Excellence) and the ATHENA IP (Advanced Technologies for interoperability of Heterogeneous Enterprise Networks and their Applications), three workshops and a doctoral symposium were organized in order to strengthen some key topics related to interoperability for enterprise applications and software. The workshops were selected to complement the conference topics, providing researchers with more time to brainstorm and then to come out, at the end of the workshops, with new research directions for the future.


Contents
1. The 2nd IFAC TC 5.3 Experts Workshop on Enterprise Integration, Interoperability and Networking (EI2N 2006) aimed to identify issues on Applications Interoperability for Enterprise Integration to be developed in future research works.
2. The 2nd workshop on Web Services and Interoperability (WSI 2006) gathered researchers and practitioners in order to explore various aspects of web services and their benefits to the interoperability problem.
3. The objective of the Interoperability Solutions to Trust, Security, Policies and QoS for Enhanced Enterprise Systems (IS-TSPQ 2006) workshop was to explore architectures, models, systems and utilization for non-functional aspects, especially addressing the new requirements on interoperability.
4. Finally, the doctoral symposium provided an opportunity for students involved in the preparation of their PhD in any area of Interoperability for Enterprise Software and Applications to discuss their research issues and ideas, thus positioning them at the cutting-edge of the subject.
About the authors
Hervé Panetto, Associate Professor at Research Centre for Automatic Control at University Henri Poincaré, Nancy I, France.

Nacer Boudjlida, Associate Professor at University Henri Poincaré, Nancy I, France.