Analog Electronics for Measuring Systems
FOCUS Series in Electronics Engineering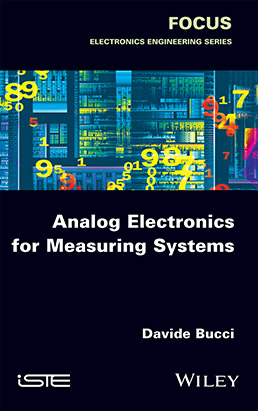 Description
Many instrumentation engineers and scientists often deal with analog electronic issues when approaching delicate measurements. Even if off-the-shelf measuring solutions exist, comprehension of the analog behavior of the measuring system is often a necessity.
This book provides a concise introduction to the main elements of a low frequency analog acquisition chain. It aims to be sufficiently general to provide an introduction, yet specific enough to guide the reader through some classical problems that may be encountered in the subject. Topics include sensors, conditioning circuits, differential and instrumentation amplifiers, active filters (mainly for anti-aliasing purposes) and analog to digital converters. A chapter is devoted to an introduction to noise and electronic compatibility.
This work is intended for people with a general background in electronics and signal processing, who are looking for an introduction to classical electronic solutions employed in measuring instruments involving low frequency analog signal processing.

Contents
1. Fundamentals of Sensing and Signal Conditioning.
2. Amplification and Amplifiers.
3. Elements of Active Filter Synthesis.
4. Analog to Digital Converters.
5. Introduction to Noise Analysis in Low Frequency Circuits.


About the authors
Davide Bucci is Associate Professor at the Grenoble-INP/Phelma in France, where he teaches electronics, microelectronics and photonics. His current research interests at the IMEP-LAHC laboratory include photonic devices and optofluidic sensors. Davide coordinates the FidoCadJ project: open-source drawing software for electronics.
Downloads

Table of Contents
PDF File 119 Kb