Fluid Mechanics for Chemical Engineering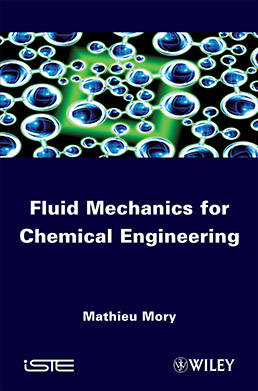 Description
The book provides all the essential knowledge on the topic of fluid mechanics necessary for chemical engineers.

The first part of the book presents the principles of fluid mechanics used by chemical engineers, with a focus on global theorems for describing the behavior of hydraulic systems. The second part deals with turbulence and its applications in stirring, mixing and chemical reactor applications. The third part of the book addresses mechanical separation processes by considering the dynamics of particles in a flow and the processes of filtration, fluidization and centrifugation. The mechanics of granular media are then examined.

With numerous original illustrations, this book provides a new and easily accessible presentation of the subject of fluid mechanics for the most important application areas in chemical engineering, and is therefore extremely useful for students and practicing engineers.
Contents
PART I. ELEMENTS IN FLUID MECHANICS
1. Local Equations of Fluid Mechanics.
2. Global Theorems of Fluid Mechanics.
3. Dimensional Analysis.
4. Steady-State Hydraulic Circuits.
5. Pumps.
6. Transient Flows in Hydraulic Circuits: Water Hammers.

PART II. MIXING AND CHEMICAL REACTIONS
7. Notions of Rheometry.
8. Large Scales in Turbulence: Turbulent Diffusion – Dispersion.
9. Hydrodynamics and Residence Time Distribution – Stirring.
10. Micromixing and Macromixing.
11. Small Scales in Turbulence.
12. Micromixing Models.
PART III. MECHANICAL SEPARATION
13. Physical Description of a Particulate Medium Dispersed Within a Fluid.
14. Flows in Porous Media.
15. Particles within the Gravity Field.
16. Movement of a Solid Particle in a Fluid Flow.
17. Centrifugal Separation.
18. Notions on Granular Materials.

About the authors
Mathieu Mory is Director of the Chemical Engineering School at the University of Pau and the Adour Region (UPPA) in France.