Economic Reason and Political Reason
Deliberation and the Construction of Public Space in the Society of Communication
SCIENCES - Epistemology of Normative Sciences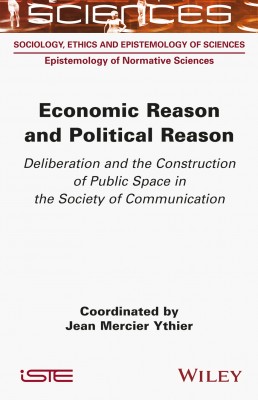 Description
The public space of democracies is constructed in a context that is marked by the digital transformation of the economy and society. This construction is carried out primarily through deliberation. Deliberation informs and guides both individual and collective action.

To shed light on the concept of deliberation, it is important to consider the rationality of choice; but what type of rationality is this? References to economic reason are at once widespread, crucial and controversial. This book therefore deals with arguments used by individuals based on the notions of preferential choice and rational behavior, and also criticizes them. These arguments are examined in the context of the major themes of public debate that help to construct the contemporary public space: "populism", social insurance, social responsibility and environmental issues.

Economic Reason and Political Reason underlines the importance of the pragmatist shift of the 2000s and revisits, through the lens of this new approach, the great utilitarian and Rawlsian normative constructs that dominated normative political economics at the end of the 20th century. Alternative approaches, based on the concept of deliberative democracy, are proposed and discussed.

Contents
Part 1. Normative Political Economy: Between Economic Reason and Political Reason.
1. The "Difference Principle": Economic Rationality and Political Applicability, Claude Gamel.
2. The Public Sphere Between the State and the Market: From Rational Discussion to the Information and Communication Society, Sylvain Lavelle.
3. Contracts Rather than Deliberation: Robert Sugden's Normative Economics, Bertrand Crettez.
4. From a Hegelian to a Smithian Reading of Rawls, Ragip Ege and Herrade Igersheim.

Part 2. Reasons and Persons.
5. Personal Identity, Public Deliberation and Behavioral Public Policy, Cyril Hédoin.
6. Preferential Choice, Logical Action and Communication Ethics, Jean Mercier Ythier.

Part 3. Public Debate and Public Policy.
7. Issues of "Stakeholder" Recognition in Collaborative Deliberation, Emmanuel Picavet.
8. Rethinking the Social Contract in the Digital Age, Bruno Deffains.
9. Public Management of Rivers: The Deliberative Test, Julie Riegel.
10. The Economics of Biodiversity and Ecosystem Services between Monetary Valuation and Deliberation, Franck-Dominique Vivien.








About the authors
Jean Mercier Ythier is Professor of Economics at the Paris-Panthéon-Assas University, France. His research focuses on political economy, public economics and contemporary economic anthropology.
Downloads

Table of Contents
PDF File 177 Kb