Security in Vehicular Networks
Focus on Location and Identity Privacy
Volume 1 - New Generation Networks SET by Abdelhamid Mellouk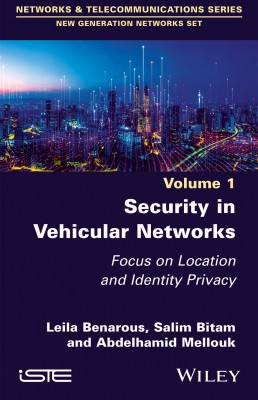 Description
Vehicular networks were first developed to ensure safe driving and to extend the Internet to the road. However, we can now see that the ability of vehicles to engage in cyber-activity may result in tracking and privacy violations through the interception of messages, which are frequently exchanged on road.

This book serves as a guide for students, developers and researchers who are interested in vehicular networks and the associated security and privacy issues. It facilitates the understanding of the technologies used and their various types, highlighting the importance of privacy and security issues and the direct impact they have on the safety of their users. It also explains various solutions and proposals to protect location and identity privacy, including two anonymous authentication methods that preserve identity privacy and a total of five schemes that preserve location privacy in the vehicular ad hoc networks and the cloud-enabled internet of vehicles, respectively.

This book also presents a new privacy-aware blockchain-based pseudonym management framework.

Contents
1. Vehicular Networks.
2. Privacy and Security in Vehicular Networks.
3. Security and Privacy Evaluation Methodology.
4. The Attacker Model.
5. Privacy-preserving Authentication in Cloud-enabled Vehicle Data Named Networks (CVDNN) for Resources Sharing.
6. Privacy-preserving Authentication Scheme for On-road On-demand Refilling of Pseudonym in VANET.
7. Preserving the Location Privacy of Vehicular Ad hoc Network Users.
8. Preserving the Location Privacy of Internet of Vehicles Users.
9. Blockchain-based Privacy-aware Pseudonym Management Framework for Vehicular Networks.

About the authors
Leila Benarous is an associate professor in the Computer Science department and a researcher at LIM Laboratory, University of Laghouat, Algeria. She is also an associate member of UPEC-LiSSi-TincNET Research Team, France.

Salim Bitam is a professor of Computer Science and vice rector responsible for post-graduation training and scientific research at the University of Biskra, Algeria. His main research interests include vehicular networks, cloud computing and bio-inspired methods.

Abdelhamid Mellouk is currently the director of IT4H High School Engineering Department, a professor at the University of Paris-Est Créteil (UPEC) and Head of UPEC-LiSSi-TincNET Research Team, France. He is the founder of the Network Control Research and Curricula activities in UPEC, the current co President of the French Deep Tech Data Science and Artificial Intelligence Systematic Hub, member of the Algerian High Research Council (CNRST) and an associate editor of several top ranking scientific journals.

Downloads

Table of Contents
PDF File 196 Kb