The Tactile Internet
SCIENCES - Networks and Communications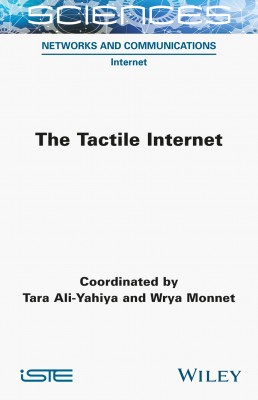 Description
The Tactile Internet will change the landscape of communication by introducing a new paradigm that enables the remote delivery of haptic data.
This book answers the many questions surrounding the Tactile Internet, including its reference architecture and adapted compression methods for conveying haptic information. It also describes the key enablers for deploying the applications of the Tactile Internet.

As an antecedent technology, the IoT is tackled, explaining the differences and similarities between the Tactile Internet, the Internet of Things and the Internet of Everything. The essentials of teleoperation systems are summarized and the challenges that face this paradigm in its implementation and deployment are also discussed.

Finally, a teleoperation case study demonstrating an application of the Tactile Internet is investigated to demonstrate its functionalities, architecture and performance.

Contents
1. Introduction to Tactile Internet, Tara Ali-Yahiya.
2. Reference Architecture of the Tactile Internet, Tara Ali-Yahiya.
3. Tactile Internet Key Enablers, Tara Ali-Yahiya.
4. 6G for Tactile Internet, Pinar Kirci and Tara Ali-Yahiya.
5. IoT, IoE and Tactile Internet, Wrya Monnet.
6. Telerobotics, Wrya Monnet.
7. Haptic Data: Compression and Transmission Protocols, Wrya Monnet.
8. Mapping Wireless Networked Robotics into Tactile Internet, Nicola Roberto Zema and Tara Ali-Yahiya.
9. HoIP over 5G for Tactile Internet Teleoperation Application, Tara Ali-Yahiya, Wrya Monnet and Bakhtiar M. Amin.
10. Issues and Challenges Facing Low Latency in the Tactile Internet, Tara Ali-Yahiya.
About the authors
Tara Ali-Yahiya is Associate Professor at Paris-Saclay University, France. She is deputy head of the Networking & Stochastic and Combinatorial Optimization Team at LISN Laboratory. She has an HDR, PhD and MSc in Telecommunications and was a post-doctoral researcher at Telecom SudParis,

Wrya Monnet is a faculty member of the CSE department at the University of Kurdistan Hewler, Iraq. He has 23 years of experience in industry and academia and has done post-doctoral research at Telecom SudParis, France. He worked as an R&D and embedded software engineer for 10 years.
Downloads

Table of Contents
PDF File 66 Kb