Innovation and Financial Markets
Volume 7 - Innovation between Risk and Reward SET Coordinated by Bernard Guilhon, Sandra Montchaud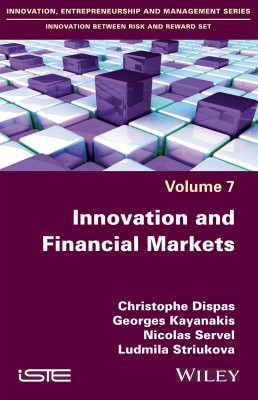 Description
Using a didactic approach for non-specialists, this book details the entire process and the steps to be followed by entrepreneurs who are looking to turn a simple idea into a publicly traded company. Instructive in nature, Innovation and Financial Markets not only covers essential operational themes, but also provides ideas for renewing an organization's capacity for innovation, to avoid its natural decline.

To complement these fundamental industrial aspects, this book analyzes the financial dimension of this journey: from early stage financing through to high growth, how to value your company, and what methods and tools are used by investors to value innovative companies up to their IPO. The book also deals with financial markets that assess listed companies and their innovative character, and seeks to better understand whether they recognize and value the effective management of innovation by these companies.
Contents
1. From the Idea to the Stock Market.
2. How to Develop the Innovative Capacity of Companies.
3. Innovation and Its Challenges for the Company.
4. Financial Evaluation of an Innovation Project.
5. Funding Innovation.
6. Valorization of Innovation by Financial Markets.
7. Innovation and Credit Risk.
8. Financial Innovation: Creating Value... or Risk?.
About the authors
Christophe Dispas holds a PhD in Economics and Management from the Université catholique de Louvain, Belgium, and is Finance Professor and Associate Dean at SKEMA Business School, Sophia Antipolis, France.

Georges Kayanakis is an engineer in advanced industry and founder of the start-up, ASK, which specializes in contactless technology.

Nicolas Servel holds a Diplôme d'Etudes Supérieures Spécialisées (DESS) from Paris Dauphine University, France, and an MBA from the University of Cambridge, UK. He is the Director of the Master of Science in Entrepreneurship and Innovation at SKEMA Business School, Sophia Antipolis, France.

Ludmila Striukova holds a PhD in Management from the University of London, UK, and is Associate Dean of the Academy of Innovation at SKEMA Business School, Paris, France.
Downloads

Table of Contents
PDF File 85 Kb