Statistical Topics and Stochastic Models for Dependent Data with Applications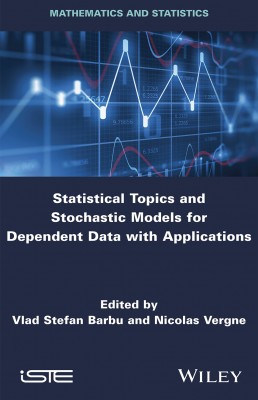 Description
This book is a collective volume authored by leading scientists in the field of stochastic modeling for dependent data, associated statistical topics and corresponding applications. These issues are crucial, as we face a growing need for increasingly complex models, capable of capturing the main features of increasingly complex applications.

From a technical point of view, this book gathers together, in one place, theoretical developments and applications related to Markov-like models – semi-Markov processes, autoregressive processes, piecewise deterministic Markov processes, variable length Markov chains – as well as probabilistic and statistical techniques issued from information theory, based on divergence measures and entropies.

Statistical Topics and Stochastic Models for Dependent Data with Applications is divided into three parts: the first is dedicated to Markov and semi-Markov processes; the second to autoregressive processes; and the final part focuses on divergence measures and entropies. Particular focus is given to the applications of these methods in various fields, such as finance, DNA analysis, quantum physics and survival analysis.
Contents
Part 1. Markov and Semi-Markov Processes
1. Variable Length Markov Chains, Persistent Random Walks: A Close Encounter, Peggy Cénac, Brigitte Chauvin, Frédéric Paccaut and Nicolas Pouyanne.
2. Bootstraps of Martingale-difference Arrays Under the Uniformly Integrable Entropy, Salim Bouzebda and Nikolaos Limnios.
3. A Review of the Dividend Discount Model: From Deterministic to Stochastic Models, Guglielmo D'Amico and Ricardo De Blasis.
4. Estimation of Piecewise-deterministic Trajectories in a Quantum Optics Scenario, Romain Azaïs and Bruno Leggio.
5. Identification of Patterns in a Semi-Markov Chain, Brenda Ivette Garcia-Maya and Nikolaos Limnios.

Part 2. Autoregressive Processes
6. Time Changes and Stationarity Issues for Continuous Time Autoregressive Processes of Order p, Valérie Girardin and Rachid Senoussi.
7. Sequential Estimation for Non-parametric Autoregressive Models, Ouerdia Arkoun, Jean-Yves Brua and Serguei Pergamenchtchikov.

Part 3. Divergence Measures and Entropies
8. Inference in Parametric and Semi-parametric Models: The Divergence-based Approach, Michel Broniatowski.
9. Dynamics of the Group Entropy Maximization Processes and of the Relative Entropy Group Minimization Processes Based on the Speed-gradient Principle, Vasile Preda and Irina B?ncescu.
10. Inferential Statistics Based on Measures of Information and Divergence, Alex Karagrigoriou and Christos Meselidis.
11. Goodness-of-Fit Tests Based on Divergence Measures for Frailty Models, Filia Vonta.
About the authors
Vlad Stefan Barbu is Associate Professor in Statistics with LMRS at the University of Rouen Normandy, France. His main research focuses on statistics of stochastic processes and on techniques based on divergence measures, with a particular interest in semi-Markov and hidden semi-Markov processes.

Nicolas Vergne is Associate Professor in Statistics with LMRS at the University of Rouen Normandy. His research work is in statistics, focusing on different Markov-type models: drifting Markov models, semi-Markov models, hidden Markov models and bioinformatics.
Downloads

Table of Contents
PDF File 84 Kb