Process Industries 2
Digitalization, a New Key Driver for Industrial Management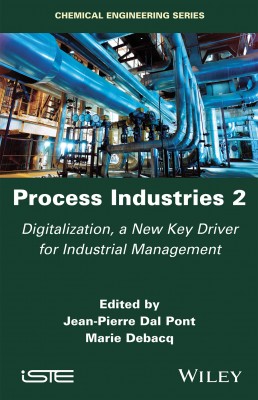 Description
As a result of knowledge exchange between the academic and industrial worlds, this book analyzes the process industries impacted by the digital revolution that accompanies the ongoing energy and environmental transitions.

Process Industries 2 first discusses bio-industries and analyzes the development of products of microbial origin. It then studies all the stages of industrialization that facilitate the progress from research to the production of a finished product, as well as industrial management techniques. Using concrete examples, this book presents the instruments of the digital revolution (artificial intelligence, virtual reality, augmented reality, the Internet of Things, digital twins), while analyzing their impact on the supply chain and operators.

Boxes within the book, written by recognized specialists, invite both students and professionals, who are faced with a changing world, to reflect on the industry and the world of tomorrow.
Contents
1. Bio-industry in the Age of the Transition to Digital Technology: Significance and Recent Advances, Philippe Jacques.
2. Hydrogen Production by Steam Reforming, Marie Basin, Diana Tudorache, Matthieu Flin, Raphaël Faure and Philippe Arpentinier.
3. Industrialization: From Research to Final Product, Jean-Pierre Dal Pont.
4. Operations, Jean-Pierre Dal Pont.
5. The Enterprise and the Plant of the Future at the Age of the Transition to Digital Technology, Jean-Pierre Dal Pont.
6. And Tomorrow..., Jean-Pierre Dal Pont.
About the authors
Jean-Pierre Dal Pont is the president of the Société des Experts Chimistes de France (SECF). Specializing in process industries, he has been an industrial director in the United States and Asia-Pacific for many years.

Marie Debacq is responsible for the AgroParisTech technology platform in France. She was a research lecturer at Cnam (Paris), where her work involved experimental study and modeling of polyphasic reactors.
Downloads

Table of Contents
PDF File 149 Kb