The Restaurant, A Geographical Approach
From Invention to Gourmet Tourist Destinations
Volume 3 - Tourism and Mobility Systems SET Coordinated by Philippe Violier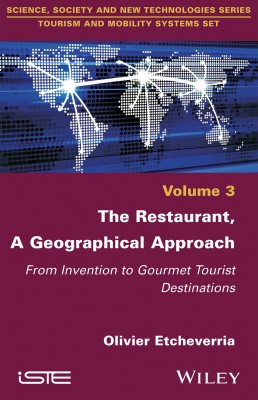 Description
This book analyzes the way in which restaurants are geographical objects that reveal locational logics and strategies, and how restaurants weave close relationships with the space in which they are located. Originating from cities, restaurants feed off the urban environment as much as they feed it ? participating in the qualification, differentiation and hierarchy of cities.

Indeed, restaurants in both the city and the countryside maintain a dialogical relationship with tourism. They can be vital players in the establishment of emerging types of gourmet tourism, sometimes even constituting as gourmet tourist destinations in their own right. They participate in the establishment of necessary conditions for local development. Some restaurants are even praised as historic sites, recognized as part of the local heritage, which reinforces their localization and their identity as a gourmet tourist destination.
Contents
Part1. The Restaurant: An Eminently Urban Subject
1. The Geographical Origin of the Restaurant: The Urban Environment.
2. The Concentration of Restaurants in the City Centers.
3. The Geographical Diffusion of Restaurants in Provinces by Cities and City Networks.

Part 2. The Restaurant in Terms of Places and Geographical Spaces
4. Logics and Strategies for Locating Restaurants.
5. Restaurants in the City.
6. Restaurants in the Countryside and the Relationship Between Cities and the Countryside.

Part 3. The Restaurant at the Heart of the Tourist System
7. The Relationship Between the Restaurant and Tourism.
8. The Restaurant, a Tool for Gourmet Tourism.
9. The Restaurant as a Gourmet Tourist Destination.

Part 4. The Restaurant as a Tool for Local Development
10. Restaurants and Local Development in Urban Areas.
11. Restaurant and Local Development in Rural Areas.

Part 5. The Restaurant: What Heritage?
12. The Restaurant: From Monument to Heritage.
13. Tourists as Actors in the Process of Adding Cultural Heritage to Restaurants.
About the authors
Olivier Etcheverria is Maître de conférences at ESTHUA - the Faculty of Tourism and Culture at the University of Angers in France. His teachings and research focus on the geography of gastronomy, gourmet tourism and the intersections between gastronomy and local development.
Downloads

Table of Contents
PDF File 96 Kb