Image Beyond the Screen
Projection Mapping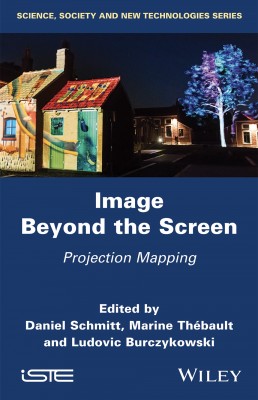 Description
Videomapping with its use of digital images is an audiovisual format that has gained traction with the creative industries. It consists of projecting images onto diverse surfaces, according to their geometric characteristics. It is also synonymous with spatial augmented reality, projection mapping and spatial correspondence.

Image Beyond the Screen lays the foundations for a field of interdisciplinary study, encompassing the audiovisual, humanities, and digital creation and technologies. It brings together contributions from researchers, and testimonials from some of the creators, technicians and organizers who now make up the many-faceted community of videomapping.

Live entertainment, museum, urban or event planning, cultural heritage, marketing, industry and the medical field are just a few examples of the applications of this media.
Contents
Part 1. History and Identity
1. The Origins of Projection Mapping, Ludovic Burczykowski.
2. The "Spatialization" of the Gaze with the Projection Mapping Dispositive, Justyna Weronika Labadz.
3. Projection Mapping: A New Symbolic Form?, Martina Stella.
4. Points of View: Origins, History and Limits of Projection Mapping, Ludovic Burczykowski and Marine Thébault.

Part 2. Texts and Techniques
5. Listening to Creators in Residence, Marine Thébault and Daniel Schmitt.
6. Projection Mapping and Automatic Calibration: Beyond a Technique, Sofia Kourkoulakou.
7. Projection Mapping Gaming, Julian Alvarez.
8. Projection Mapping and Photogrammetry: Interest, Contribution, Current Limitations and Future Perspectives, Nicolas Lissarrague.
9. Points of View: Sound, Projection and Interaction, Jérémy Oury, Ludovic Burczykowski and Marine Thébault.

Part 3. Production and Dissemination
10. The Factory of the Future, Augmented Reality and Projection Mapping, Pascal Level.
11. Heritage Mediation through Projection Mapping, Alexandra Georgescu Paquin.
12. Projection Mapping: A Mediation Tool for Heritage Resilience?, Hafida Boulekbache and Douniazed Chibane.
13. Architectural Projection Mapping Contests: An Opportunity for Experimentation and Discovery, Jérémy Oury.
14. Points of View: Supporting and Highlighting Projection Mapping, Marine Thébault and Ludovic Burczykowski.


About the authors
Daniel Schmitt is a teacher-researcher in information sciences and communication at the Polytechnic University of Hauts-de-France, France. His research focuses on lived experience and instrumented mediations.

Marine Thébault is a research engineer at the DeVisu laboratory of the Polytechnic University of Hauts-de-France. Her research focuses in particular on the analysis of the activity of artists and their audiences.

Ludovic Burczykowski is a doctor in aesthetic phenomena and sciences and technologies of the arts, a specialist in the relation of digital images with the physical environment, and a research engineer.
Downloads

Table of Contents
PDF File 141 Kb