Energy-Efficient Computing and Data Centers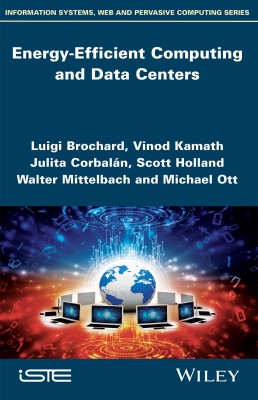 Luigi Brochard, Luigi Brochard Consulting, France
Vinod Kamath, Lenovo Data Center Group, USA
Julita Corbalán, Barcelona Supercomputing Center, Universitat Politècnica de Catalunya, Spain
Scott Holland, Lenovo Data Center Group, USA
Walter Mittelbach, Sorption Technologies Gmbh, Germany
Michael Ott, Leibniz Supercomputing Centre, Germany

---
Description
Data centers consume roughly 1% of the total electricity demand, while ICT as a whole consumes around 10%. Demand is growing exponentially and, left unchecked, will grow to an estimated increase of 20% or more by 2030.

This book covers the energy consumption and minimization of the different data center components when running real workloads, taking into account the types of instructions executed by the servers. It presents the different air- and liquid-cooled technologies for servers and data centers with some real examples, including waste heat reuse through adsorption chillers, as well as the hardware and software used to measure, model and control energy. It computes and compares the Power Usage Effectiveness and the Total Cost of Ownership of new and existing data centers with different cooling designs, including free cooling and waste heat reuse leading to the Energy Reuse Effectiveness. The book concludes by demonstrating how a well-designed data center reusing waste heat to produce chilled water can reduce energy consumption by roughly 50%, and how renewable energy can be used to create net-zero energy data centers.

Contents
1. Systems in Data Centers.
2. Cooling Servers.
3. Cooling the Data Center.
4. Power Consumption of Servers and Workloads.
5. Power and Performance of Workloads.
6. Monitoring and Controlling Power and Performance of Servers and Data Centers.
7. PUE, ERE and TCO of Various Cooling Solutions.
About the authors
Luigi Brochard was a Distinguished Engineer at IBM, then at Lenovo Data Center Group where he designed energy aware software systems. He is now a consultant on energy efficiency.

Vinod Kamath worked with IBMx86 as a thermal engineer and is now a Senior Technical Staff Member with the Lenovo Data Center Group, where he is responsible for the water-cooled server design.

Julita Corbalán is Associate Professor at the UPB, associate researcher at BSC-CNS and technical leader for the EAR Lenovo-BSC project.

Scott Holland is a thermal engineer with Lenovo Data Center Group and is responsible for providing direct liquid-cooling solutions. His most recent project was the Lenovo ThinkSystem SD650.

Walter Mittelbach has been working on adsorption chillers at Fraunhofer ISE since 1995. He also founded two companies: Fahrenheit GmbH (2002) and Sorption Technologies GmbH (2018).

Michael Ott is a senior researcher in the HPC division at Leibniz Supercomputing Centre, where he leads the research activities on energy efficiency.

Downloads

Table of Contents
PDF File 92 Kb