Measuring Mental Disorders
Psychiatry, Science and Society
Health Industrialization SET Coordinated by Bruno Salgues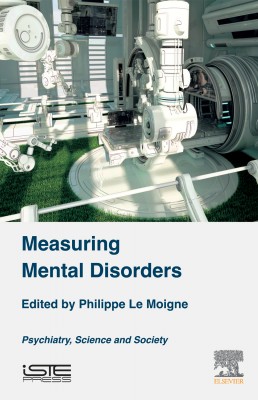 Description
Standardized scales and tests have become the rule in the diagnosis of mental disorders in both psychiatry and psychology. However, rarely do we question the origins and fundamental principles of these tests, the reasons for their spread, and their impact on the lives of patients. From the perspective of the social sciences, Measuring Mental Disorders: Psychiatry, Science and Society intends to answer these questions.

Using a critical analysis of assessment tools, such as those used in the diagnosis of depression or obsessive-compulsive disorder, this book examines why this type of measure has become the benchmark in the field and whether this reputation can be justified.

Finally, the book discusses in depth two use cases of these tools: in Alzheimer's disease and in testing for drug use in the workplace. How have these tests been constructed, how have they established themselves, and what is their use in practice, particularly in the clinical relationship?
Contents
Part 1. Basic Principles: Strengths and Limitations of Psychiatric Assessment Tools
1. The Spread of Psychiatric Nosography into Science: Origins and Issues of the Research on Depression (1950–1985), Philippe Le Moigne.
2. The Hamilton Scale as an Analyzer for the Epistemological Difficulties in Research on Depression, Xavier Briffault.

Part 2. Developments: Chronicles of Successful Tests
3. A Golden Standard to Evaluate OCD: On the Use of the Y-BOCS, Margot Morgiève.
4. Objectifying Dementia: the Use of the Mini-Mental State Exam in Medical Research and Practice, Baptiste Brossard.

Part 3. Uses: the Tests in Context
5. The MMSE in Practice: the Medical Relationship Reflected through the Administration of a Neuropsychological Test, Aude Béliard.
6. From Care to Risk Prevention: the Success of Screening Tests for Drugs at the Workplace (UnitedStates/France), Renaud Crespin.

About the authors
Philippe Le Moigne is a sociologist and researcher at INSERM, the French National Institute of Health and Medical Research. He has previously studied the prescription and consumption of psychotropic drugs in the general population, and now focuses on the principles and uses of tests designed for the evaluation of mental disorders.
Downloads

Table of Contents
PDF File 95 Kb