e-Health Systems
Theory, Advances and Technical Applications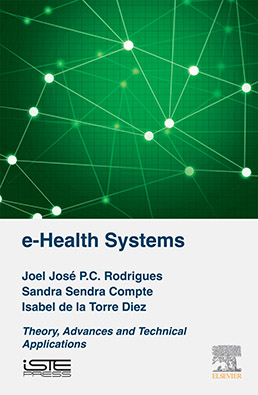 Description
This book presents e-Health, from its implementation at the physical level to the networks of communication between the different systems and sensors involved, as well as the most relevant solutions at the application layer.

The authors focus on ICT technologies and solutions for health management and healthcare applications.

Part 1 presents electronic health records as we know them. By presenting the related standards and other initiatives, the reader will find a comprehensive introduction to the concepts of e-health and to the processes carried out to store information.

Part 2 explores emerging technologies and applications in the health sector, the different types of wireless networks and the security protocols employed to ensure robust systems which can avoid data corruption and other vulnerabilities.

This book is aimed at students, academics, researchers and professionals involved in improving health management and e-Health systems.
Contents
Part 1. Electronic Health Records: Standards and Other Initiatives.
1. Electronic Medical Records and Their Standards.
2. Health Level 7.
3. Clinical Document Architecture.
4. Digital Imaging and Communications in Medicine.
5. Other Standardization Initiatives.

Part 2. Emerging e-Health Technologies and Applications.
6. Body Area Networks.
7. Mobile Health Technologies and Applications.
8. Mobile Computing in Medicine: Case Studies.
9. Ambient Assisted Living.
10. Social Networkson Healthcare.
11. Cloud Computing on e-Health.
12. Security and Privacy in e-Health Applications over the Cloud.

About the authors
Joel Rodrigues is Professor in the Department of Informatics of the University of Beira Interior, Covilhã, Portugal, and senior researcher at the Instituto de Telecomunicações, Portugal. He is also with the University of Fortaleza (UNIFOR), Ceará, Brazil and Instituto Nacional de Telecomunicações (Inatel), Brazil.

Sandra Sendra Compte is a researcher in "Communications and Netwoks" at the Polytechnic University of Valencia, Spain.

Isabel de la Torre Diez is Associate Professor in the Department of Signal Theory, Communications and Telematics Engineering at the University of Valladolid, Spain.
Downloads

Table of Contents
PDF File 449 Kb